This week June 20-24 in sports…
Rugby, soccer and track jerseys still missing. Return ASAP to the office or you will be charged $50.
Improve your athletic skills over the summer.  Check out the flyers for sports camps posted in the gym.
A huge congratulations to all of Spencer's athletes on a successful year!
If your child is currently attending one of our feeder schools ie: David Cameron, John Stubbs(FI), Lakewood, Millstream, Ruth King, Savory or Willway, you do NOT need to register for Gr 6 on-line.  Your child will automatically be transferred to Spencer unless you let us and your current school know other wise.
To Register your child for Spencer Middle please go to:  http://www.sd62.bc.ca/parents/registration/
Parents can request a school change on-line on this direct link: http://changereq.sd62.bc.ca
***School Supply Lists for 2016-2017 can be found at the top of this page under 'Links' then 'Students".***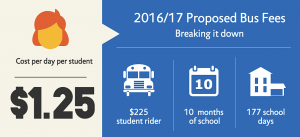 New for the 2016/17 school year
Register and pay online!
Registration window: May 12 – June 24 ONLY  *If your child requires bus transportation for September , they must be registered by June 24.
Proposed increase of $50 per rider
Outstanding fees must be paid before registering for the next school year.
To register please go to: Bus Registraion
Find all the details about the new changes as well as current bus routes and more on the District's Transportation page.
(link http://www.sd62.bc.ca/about/transportation/)
If you have any questions or concerns, please contact us at info@sd62.bc.ca or bussing@sd62.bc.ca
***Waivers – Families with financial hardship may apply to have their bus fees waived.  To apply, please visit your child's school to fill out a bus registration and waiver form.  All waivers must be signed by you r school's principal.  On-line bus registration is NOT available for those who wish to seek a fee exemption.
**Langford by-law enforcement has asked us to remind parents picking up their children after school, to please park in designated spaces in front of the school, along Carlow or on other nearby side streets. Please also observe signage in our parking lot – the double lanes in our parking lot closest to the street are for very quick drop off/pick-ups and drive-throughs (one for each purpose). The lane closest to the school is for busses only.
Wednesday – Pizza – one piece for $3 or two for $5.   At the canteen at lunch 12:25.
Friday – Freezie Fridays – Funds go toward Spencer Wildcats sports teams. *Last Freezie Friday on June 17!*
Weekly Update Message – Tuesday, June 14, 2016
It's difficult to believe we are in mid-June already! How time flies…
Please note that Grade 8 Leaving tickets are still on sale, but will not be available forever! If your grade 8 is keen to go, be sure they get a ticket ASAP!
June 16      Celebration of the Arts 7pm in the gym
June 22      Grade 6 trip to Science World, Grade 8 trip to Playland
June 23      Grade 7 trip to Playland
June 27      Grade 8 leaving, Spencer Gym. (time TBA) Gym off-limits
June 28      Final full day of school and Final Assembly (time TBA)
June 29      Report Card pick-up at 9am. (Busses run regular schedule, but there is NO Instruction on this day.)
June 30      Admin Day: students not in session.
During the week of June 20th we will be having a series of challenges, one each day. The challenges will include a paper airplane contest, a massive rock/paper/scissors challenge, a football throw (accuracy) and a sprint challenge.  We look forward to crowning our grade champions!!
Please note that the year-end trips are not a right of students: they are a privilege. Some students may be asked to stay behind due to incomplete work, failing grades or poor behavior during the school year. Teachers will be in contact with those students who are of a concern.
On behalf of the Spencer Staff, have a beautiful day!
Terry Honer
Principal, Spencer Middle School