This week May 24-27 in sports…
Track Meets: Wednesday, May 25th. City Finals Thursday, June 2nd.
Monday (23) NO SCHOOL – Victoria Day
Tuesday (24) Track & Field – long distance runners (800m and up) practice at 8am
Handball – Div 6-1 vs Div 6-8 at lunch
Wednesday (25)   Track & Field – long distance runners (800m and up) practice at 8am
Track & Field – Discuss and shot put practice at lunch
Track & Field – Track Meet at UVic at 4pm. Arrange own rides.
Dodgeball – Team 3 vs. Team 4 at lunch
Thursday (26) Track & Field – high jump practice at lunch
Track & Field – sprints, relays and hurdles practice 3:30-4:30
Handball – Div 6-2 vs Div 6-6 at lunch
Friday (27) Track & Field – long distance runners (800m and up) practice at 8am
Remember to check the athletics board for updates!
If your child is currently attending one of our feeder schools ie: David Cameron, John Stubbs(FI), Lakewood, Millstream, Ruth King, Savory or Willway, you do NOT need to register for Gr 6 on-line.  Your child will automatically be transferred to Spencer unless you let us and your current school know other wise.
Please register your child for Spencer Middle at:  http://www.sd62.bc.ca/parents/registration/
Please see the registration blog that outlines the process for requesting a School Change Request online at:
http://registrationblog.sd62.bc.ca/2016/01/21/school-change-requests-go-on-line-for-2016/
Parents can request a school change on-line on this direct link:
Speaking of next year, here is the current thoughts on our specialty programs…
Our current thought is that Percussion 8 will be offered in the timetable.
Band 7/8 will be offered after school.
We will continue to offer a Dance 7 and 8 class. Auditions will be held later on this year. (Those students who are currently doing well in Dance 7 will not need to audition.)
Currently we are entertaining the idea of the Hockey Academy classes "straddling" the timetable next year. What this means is that the morning sessions will begin at 8am and the afternoon sessions will end at 4pm. With lower numbers in both grades 7 and 8 next year, we will be combining the classes into a 7/8 Hockey Academy.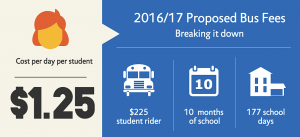 New for the 2016/17 school year
Register and pay online!
Registration window: May 12 – June 17
Proposed increase of $50 per rider
Outstanding fees must be paid before registering for the next school year.
Find all the details about the new changes as well as current bus routes and more on the District's Transportation page.
(link http://www.sd62.bc.ca/about/transportation/)
**Langford by-law enforcement has asked us to remind parents picking up their children after school, to please park in designated spaces in front of the school, along Carlow or on other nearby side streets. Please also observe signage in our parking lot – the double lanes in our parking lot closest to the street are for very quick drop off/pick-ups and drive-throughs (one for each purpose). The lane closest to the school is for busses only.
Tuesdays – Poutine –  $3.50
Wednesday – Pizza – one piece for $3 or two for $5.   At the canteen at lunch 12:25.
Friday – Freezie Fridays – Funds go toward Spencer Wildcats sports teams.
Weekly Update Message – Monday, May 16, 2016
I would like to apologize for a lack of an email last week. Monday was all about staffing Some parents may have seen me hobbling around last week: I was off Tuesday and Wednesday due to tearing my MCL and ACL, and then was playing catch-up all week.
Huge Shout-out to all the students, parents, and staff who contributed to the Fort McMurray Relief Drive.  Through cash donations and Mr. Biro and Mr. Lidstone's 'wear your hat fundraiser' we raised $222.  Through our pop-up neighbourhood challenge we gathered hundreds of items of consumables to be delivered to the people evacuated from Fort McMurray.  It is amazing how strong our Spencer community is when we work together for a common goal.  Thanks for all of your generous contributions. The Victoria group who we donated the items to will be posting their journey to Fort Mac on the Fort McMurray Evac Relocation Help Group on Facebook.
May 19          PAC Meeting in the library at 6pm
May 23      Victoria day: school not in session
May 27       Full School Assembly to celebrate Aboriginal projects completion
June 16      Celebration of the Arts 7pm in the gym
June 22      Grade 6 trip to Science World, Grade 8 trip to Playland
June 23      Grade 7 trip to Playland
June 27      Grade 8 leaving, Spencer Gym. (time TBA) Gym off-limits
June 28      Final full day of school and Final Assembly (time TBA)
June 29      Report Card pick-up at 9am. (Busses run regular schedule, but there is NO Instruction on this day.)
June 30      Admin Day: students not in session.
Please note that the year-end trips are not a right of students: they are a privilege. Some students may be asked to stay behind due to incomplete work, failing grades or poor behavior during the school year. Teachers will be in contact with those students who are of a concern.
The Royal Bay PAC elections for the positions of President and Treasurer will be held at our next meeting. We would like to extend an invitation to all Spencer parents who have a child going to Royal Bay next year. We are a non-fundraising PAC, and we meet once a month for an hour. Please join us on Wednesday, May 4 at 6:30 in the Learning Commons at Royal Bay to elect the president and treasurer for the 2016/2017 school year. All other positions will be elected in September at the AGM. Hope to see you there! 
On behalf of the Spencer Staff, have a beautiful day!
Terry Honer
Principal, Spencer Middle School